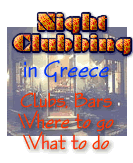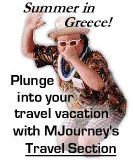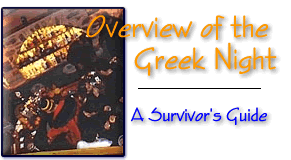 [ Intro ] [ Overview ] [ Savoir Faire ] [ Tour the clubs ]

When visiting Athens, finding your way around can be tricky. Here's an insider's guide to Athens by night.
Tavernas
Stou Xinou (4 Angelou Geronda St., Plaka; 322.1065) Old-school taverna with occasional live music and traditional food.
Bar-restaurants
Bee (Miaouli & Themidos Sts., Monastiraki; 321.2624)

Also recommended:
Island (Limanakia, Vouliagmenis; 965.3563/4) A stunning seaside setting makes this a choice romantic getaway.
Privilege (Akrotiri, Aghios Kosmas; 985.2995/6) Open-top BMWs and Cherokee Jeeps jammed with tanned blondes queue to see and be seen at this ritzy club.
Cheap dives
Brettos (Kydathinaion St., Plaka)
Flower (2 Dorylaiou St., Plateia Mavili; 643.2111)
Loras (7 Dim.Soutsou St., Plateia Mavili; 642.8473)

Also recommended:
Galaxy (10 Stadiou St., 322.7733) For serious drinkers and surreal bar-stool encounters.
To Amerikaniko (Akti Themistokleous, Pireaus; 451.5742) Unpretentious, old-fashioned, Piraeus local.
Trendy Bars
Inoteka (3 Plateia Avyssinias, Monastiraki; 324.6446)
Astron (3 Taki St., Psirri; 0932 956013)
Stavlos (10 Irakleidon St., Thisseion; 346.7206, 345.2502)
Briki (6 Dorylaiou St., Plateia Mavili; 645.2380)
Cafe Folie (156 Kifissias Ave., Neo Psychico; 674.0264)
City (43 Haritos St., Kolonaki; 722.8910)

Also recommended:
Banana Moon (1 Vas. Olgas St., Zappeion; 321.5414) Garden bar where well heeled Athenians and minor celebrities rub designer shoulders.
Kallidromio (Kallidromiou & Zossimadon Sts.; 883.6895) Students, rockers, and bohemians in a mellow Exarhia scene.
Rooftop bars
Galaxy (Hilton Hotel, 46 Vas. Sofias St.; 725.0201)

Also recommended:
Exo (1 Markou Moussorou St., Metz; 923.7109) Favoured by posh spice for its spectacular views and bizarre early eighties soundtrack.
Gay Bars
Alexander's (44 Anagnostopoulou St., Kolonaki; 364.6660) Disco queens and saucy divas.
Aleko's Island (42 Tsakalof St., Kolonaki) The first gay bar in Athens, still going strong.
Beer Houses & Wine Bars
Vyni (10 Drakou St., Koukaki; 922.6225) Relaxed neighbourhood beer parlour.
Alpen Stube (18 Kyprou St., Glyfada; 894.5045) German-style beer house for pricey pints.
Aspro (4 Aristophanous St., Plateia Psirri; 331.3218) Chill at this cool, wine bar.
Aisopou Mythos (11 Aisopou St., Psirri; 331.0884) Inventive mezedes, traditional Greek music, and fine Greek wines.
Nightclubs
+ Soda (2 Evryalis St., Glyfada; 894.0205)

Also recommended:
King Size Arena (5 Posidonos Ave., Hellenikon; 894.4138-9) Mega-club for techno teenyboppers.
Kalua (Aghios Kosmas, Alimos; 985.0178-9) Glamorous, amorous, beautiful people.
Tango (4 Alkyonidon Ave., EOT Beach, Voula; 895.6577) Waterfront club where Daddy's girls and Mommy's boys flash their cash.
Live Greek Music
Neraida, Gorgones & Manges (3 Posidonos Ave., Kalamaki; 983.9560)
Also recommended:
Bio Bio (Nea Deilina, Posidonos Ave., Glyfada; 894.1300) Some of the biggest names in Greek pop - Sakis Rouvas, Stelios Rokkos, and Peggy Zina¯provide trashy entertainment on a grand scale. Booking essential.
Asteria (Asteria Glyfadas; 894.4558, 894.6898). Yet another outsize doghouse for tabletop tummy-baring. Booking essential.
Romeo (1 Ellinikou St., Glyfada; 894.5345) Down-market version of the above.
Breakfast
Papandreou (1 Aristogeitonos St., Meat Market, off Athinas Street, Ommonia; 321.4970)
Koulouri bakery (Karaiskaki St., Psirri) Freshly baked sesame pretzels, donuts, and raisin buns for hungry nighthawks who cannot stomach tripe soup.
Roadside Cantina meals on wheels for worse-for-wear clubbers situated in lay-bys all over Athens. The most popular hot dog canteen is behind the Hilton on Mihalakopoulou St.
Folia tis Soupas (Tourkolimano St.; 417 2804) 24-hour patsas and pig trotter soup - Greeks swear it averts hangovers.
Everest (Ommonia & Syntagma Sqs./Tsakalof St., Kolonaki) The incorrigible vice of every Athenian, junk food heaven 24 hours from feta pie to ice cream sundaes.
Savvas (86 Mitropoleos St., Monastiraki) Satisfy late-night munchies with succulent souvlakia - but remember to go easy on the tzatziki.
Source: Odyssey Magazine
[ Intro ] [ Overview ] [ Savoir Faire ] [ Tour the clubs ]


Xρήσιμες πληροφορίες, αποκλειστικές προσφορές και πολλά άλλα ...

Συμπληρώστε το email σας: